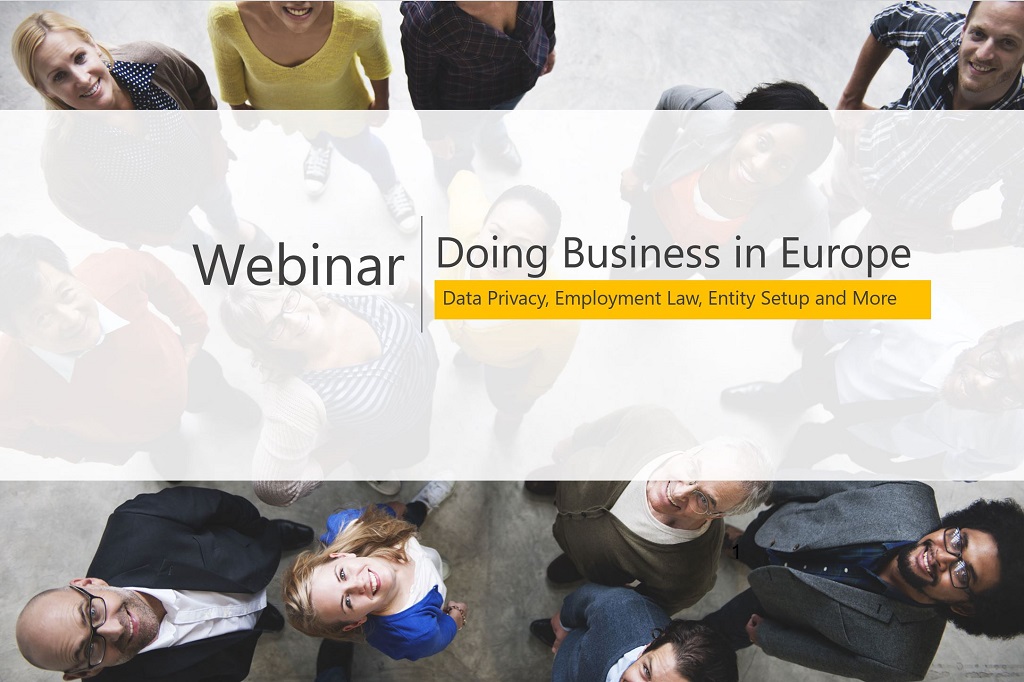 [Webinar] International Expansion: Going to Europe
Global PEO Services has teamed up with Osborne Clarke and Global Upside for a webinar on international expansion in Europe that includes Data Privacy (GDPR) compliance, and the latest updates in employment law, payroll and benefits.
Download a PDF copy of the presentation here
Agenda
Common mistakes when expanding to Europe
Setting up legal entities – do's and don'ts
Hiring options: contractors, employees, or PEO
Managing multi-country payroll and benefits
How employment law differs within Europe, the latest updates
Data Privacy: Preparing for the new GDPR guidelines
Legal impact of Brexit
Understanding Value Added Tax (VAT)
and more including your questions
Panelists
Emma Ladley, Senior Associate, Osborne Clarke
Emma is a UK employment lawyer based in Osborne Clarke's office in Silicon Valley, CA. She works closely with US and international companies to provide in time zone advice on UK employment law and international expansion issues. She also works alongside Osborne Clarke colleagues internationally in relation to European and Asian employment law matters and cross-border projects. Emma helps clients on a broad spectrum of employment and HR issues, including employment agreements, policies, disciplinaries and grievances, terminations, settlement agreements, performance management, discrimination, and TUPE. In addition, she has substantial experience advising on the employment aspects of corporate transactions.
Ragu Bhargava, Co-Founder & CEO, Global Upside
Ragu and his team at Global Upside help companies tackle accounting, payroll, HR, and compliance challenges in 100+ countries. Ragu goes by the mantra "impossible is not in my vocabulary" and has helped Global Upside clients successfully navigate some of trickiest business environments. In his previous avatars, Ragu was the CFO at ActivIdentity (NASDAQ:ACTI) and held leadership positions in several companies including Deloitte and NetIQ (NASDAQ: NTIQ), where he helped the company grow from $20 million to $300 million+ in revenue.
Adam Sheffield, President, Global PEO Services
Adam Sheffield is the President of Global PEO Services and he brings 15+ years of experience partnering with organizations on how they can stay focused on their key initiatives. He is a strategically driven business leader who is focused on creating opportunities for organizations in new, emerging, and complex markets. Throughout his career, Adam has excelled in helping clients navigate global workforce complexity by providing HCM insights and analytics. Adam has held a variety of sales leadership roles for ADP, the country's largest outsourced payroll processor, including his role as Vice President of Sales, Global Enterprise Solutions, for ADP.
Partnering with an ideal PEO service provider can get you custom solutions aligned with your business objectives. If you are ready to take the next step toward hiring PEO services, we can assist you. Call us at +1-801-821-4905 or drop an email to info@globalpeoservices.com and one of our experts will contact you.