Whitepaper – Switching Contractors to PEO
Switching International Contractors to PEO
Why global companies are making the transitions
Utilizing international contractors for one-time projects can be very effective for a business. However, switching international contractors to PEO will keep companies compliant, while also increasing their overall productivity.
To learn more about the opportunities that a PEO presents to companies with international contractors, read this white paper which discusses topics including:
Classifying International Contractors and Avoiding Misclassification Penalties
Navigating Employment Contracts
Benefits of Switching Contractors to PEO
How to Switch International Contractors to PEO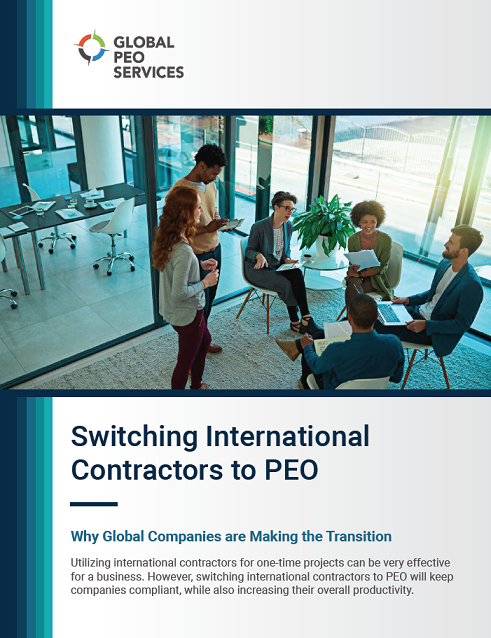 Global PEO Services (GPS) helps companies expand globally without having to set up legal entities in foreign jurisdictions and deal with related talent acquisition, HR, benefits, payroll, tax, and compliance issues. Hire employees fast, test new markets, or respond to growing business needs quickly while leaving the compliance and operational burden to us.
With our Professional Employer Organization (PEO) or Employer of Record (EOR) services, you get control without taking on legal entity liabilities, contractor risks, or sacrificing on talent and speed to market. Contact us today to learn more.