Global PEO Services CEO Wins 2017 Pride of India Award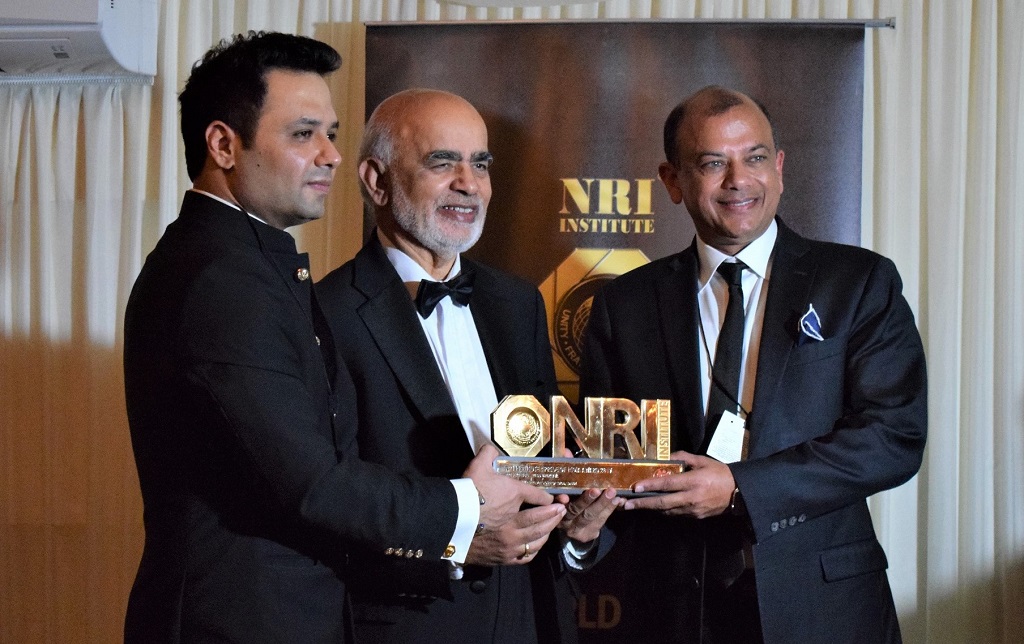 Ragu Bhargava, CEO and Co-Founder of Global PEO Services, Global Upside, and Mihi, won the 2017 Pride of India Award presented to him by the NRI Institute at a gala at the UK House of Lords in London last week.
The NRI Institute honors Indian-origin business executives who have made a lasting impact through entrepreneurship and innovation.
Ragu, who co-founded Global Upside with his wife Gita Bhargava (COO at Global PEO Services) in 1996, has built the once small accounting services firm into a formidable service provider in its space. The firm today boasts an expansive portfolio of Finance, HR, Payroll, and Professional Employer (PEO) services, has developed a unique HR technology, and is supporting clients in 100+ countries.
"I am extremely honored to be the 2017 recipient and it is a distinct privilege to be in the company of past recipients, who I consider to be extremely innovative leaders. Nearly 20 years ago, Global Upside set out with a vision to change how companies can accelerate growth. I am honored and humbled to see our positive contributions being recognized. We are fostering innovation to truly change the game for companies that are in the growth phase," said Ragu.
Lord Diljit Singh Rana, British politician and member of the House of Lords – a former recipient of the award himself – presented the award to Ragu and commended him for his work in business and for giving back to the community.
Ragu has been an avid supporter of children's education via City Year, an organization that is dedicated to helping provide education to youth in the most disadvantaged communities in the United States.
The Pride of India Award
The Pride of India awards are given by the NRI Institute, a non-profit organization focused on connecting the Indian diaspora. The awards are given in several categories and nominations are accepted and vetted by the institute's steering committee.
"Entrepreneurs foster innovation and are role models for youth across the globe. These awards are a way to connect these brilliant minds and share their stories with the world. It's a great honor to be recognizing Ragu (Bhargava)," said Manu Jagmohan Singh, Secretary General of the NRI Institute.
Notable Winners
Some other notable winners of the NRI Institute awards in recent years include business magnate and philanthropist Lord Swaraj Paul; Hinduja Group leaders, Srichand and Gopichand Hinduja; beer magnate Lord Karan Bilimoria; venture capitalist Vinod Dham; serial entrepreneur B.V. Jagadeesh; tennis legend and philanthropist Vijay Amritraj; venture capitalist Vish Mishra; Madagascar-based business tycoon Ylias Akbaraly; Baroness Sandip Verma; CMD of Jaura Infratech R.S. Jaura; and Director of Lloyds TSB's Asian Markets Division Kamel Hothi among others.
Learn more about our leadership team or our sister companies Global Upside, Mihi and Gava Talent Solutions.
Global PEO Services (GPS) helps companies expand globally without having to set up legal entities in foreign jurisdictions and deal with related talent acquisition, HR, benefits, payroll, tax, and compliance issues. Hire employees fast, test new markets, or respond to growing business needs quickly while leaving the compliance and operational burden to us.
With our Professional Employer Organization (PEO) or Employer of Record (EOR) services, you get control without taking on legal entity liabilities, contractor risks, or sacrificing on talent and speed to market. Contact us today to learn more.