Gita Bhargava Wins Silver Lifetime Achievement Stevie® Award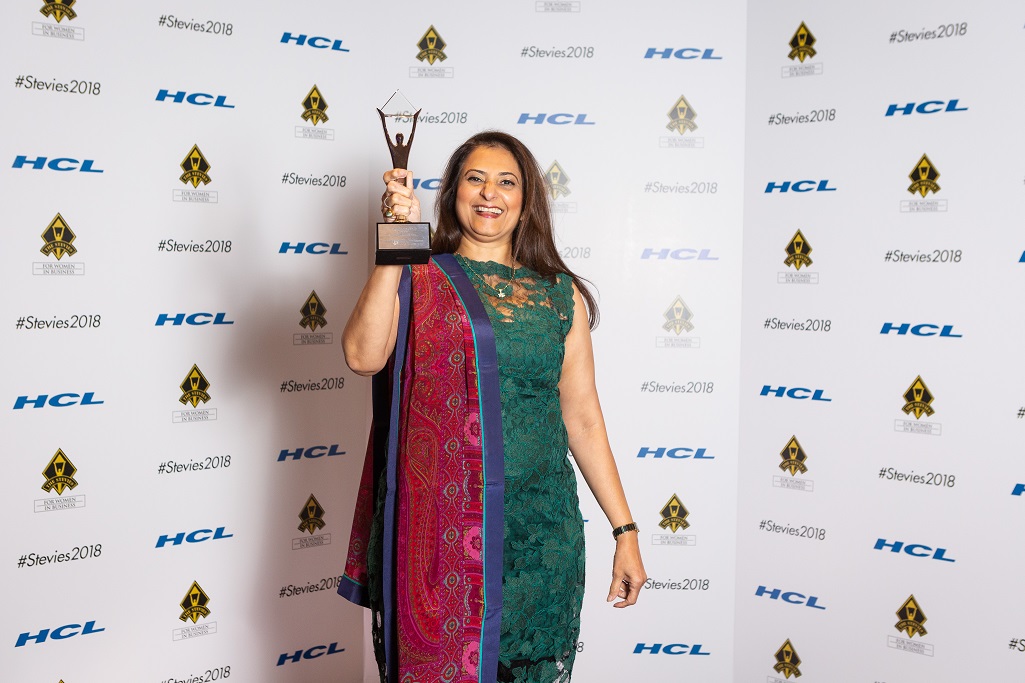 San Jose, CA – November 20, 2018 – Global Upside (https://www.globalupside.com), a leading provider of accounting, payroll, HR, PEO, and talent acquisition services globally, today announced its Co-Founder and Chief Operating Officer Gita Bhargava has been named a winner of a Silver Stevie® Award in the Lifetime Achievement category.
"My aim in life has always been to help others. I have used my career to build a community where others have the opportunity to believe in themselves and shoot for the stars," Gita states. "I am so honored to be named silver in the lifetime achievement award, among these strong-willed, talented, and powerful women."
The award recognizes Gita's significant achievements in her life, from becoming the first female entrepreneur in her hometown of Alwar, India at just 16 to her dedication to building Global Upside and its sister companies, Global PEO Services, Mihi and Gava Talent Solutions into formidable competitors helping companies across nearly 150 countries.
"Gita Bhargava is very passionate about her work which is evident in her dedication to provide the best possible experience in every engagement. Gita is thoughtful and deeply cares about those that she works with and her positive nature will put a smile on anyone's face. She is not only exceptional at her job, but is a commendable individual," said Jessica Lee, Vice President and Corporate Controller at the Zillow Group.
Gita is also an advocate of children's education and is a long-time supporter of the education-focused nonprofit City Year.
"Gita Bhargava is a true role model for women everywhere. Her vigor for and backing of City Year and her encouragement of others to do the same has been important in helping at risk children across America," said Sharon Matthews, Chair, San Jose/Silicon Valley Board, City Year.
The Stevie® Awards for Women in Business honor women executives, entrepreneurs, employees and the companies they run – worldwide. The Stevie® Awards have been hailed as the world's premier business awards.
More than 1,500 entries were submitted this year for consideration in more than 90 categories. Gold, Silver and Bronze Stevie Award winners were determined by the average scores of more than 200 business professionals around the world, working on six juries.
"In its 15th year, the Stevie Awards for Women in Business received a record number of nominations. With the new Women|Future Conference preceding the announcement of winners on November 16, it was a day to celebrate the achievements of working women around the world," said Michael Gallagher, founder and president of the Stevie Awards. "We congratulate all of this year's Grand, Gold, Silver and Bronze Stevie Award winners for their achievements."
Other finalists and past winners for the Stevie® Awards include Chatelle Lynch, Chief Human Resources Officer, McAfee; June Howard, SVP Financial Services and Chief Accounting Officer, Aflac; Taryn Owen, President, PeopleScout; Edna Conway, Chief Security Officer, Cisco Systems, Inc.; Gloria R. Boyland, Corporate Vice President, Fedex; Libby Chambers, Executive Vice President, Chief Strategy and Product Officer at Western Union; and Lisa Wolter, Executive Director, Susan G. Komen of O.C.
Details about the Stevie® Awards for Women in Business and the list of finalists in all categories are available at www.StevieAwards.com/Women.
Learn more about Gita Bhargava at www.globalupside.com/team/gita-bhargava/.
About the Stevie® Awards
Stevie Awards are conferred in seven programs: the Asia-Pacific Stevie Awards, the German Stevie Awards, The American Business Awards®, The International Business Awards®, the Stevie Awards for Great Employers, the Stevie Awards for Women in Business and the Stevie Awards for Sales & Customer Service. Stevie Awards competitions receive more than 10,000 entries each year from organizations in more than 70 nations. Honoring organizations of all types and sizes and the people behind them, the Stevies recognize outstanding performances in the workplace worldwide. Learn more about the Stevie Awards at http://www.StevieAwards.com.
Global PEO Services (GPS) helps companies expand globally without having to set up legal entities in foreign jurisdictions and deal with related talent acquisition, HR, benefits, payroll, tax, and compliance issues. Hire employees fast, test new markets, or respond to growing business needs quickly while leaving the compliance and operational burden to us.
With our Professional Employer Organization (PEO) or Employer of Record (EOR) services, you get control without taking on legal entity liabilities, contractor risks, or sacrificing on talent and speed to market. Contact us today to learn more.