Case Study – Consolidating Global Growth
Consolidating Global Growth
Comprehensive PEO Services for Rapidly Expanding Companies
As a global company, our Client had employees all over the world. Due to their rapid growth, they hired many of these employees as contractors or used multiple PEO providers, depending on their needs. As they continued to expand, they realized they wanted to have all of their employees under one PEO provider to simplify the process. They were dissatisfied with the current PEO providers they were using due to issues with rigid operations and unexpected fees, so they turned to Global PEO Services.
Read this case study to learn more about how Global PEO Services:
Provided greater global support with service coverage in 170+ countries.
Offered flexible growth solutions that addressed PEO service needs, as well as legal entity set up.
Conducted complete compliance audits for tax, labor, legal, HR, social, security and payroll data.
Ensured no hidden fees or unexpected charges by providing a clear, well-defined pricing model.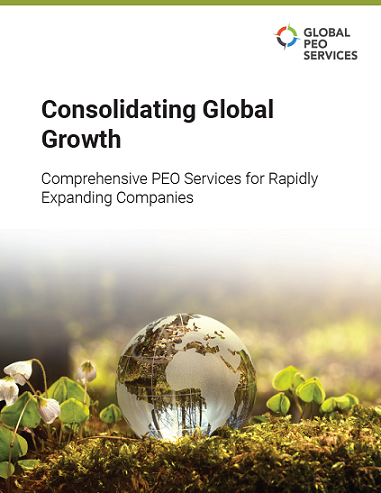 Global PEO Services (GPS) helps companies expand globally without having to set up legal entities in foreign jurisdictions and deal with related talent acquisition, HR, benefits, payroll, tax, and compliance issues. Hire employees fast, test new markets, or respond to growing business needs quickly while leaving the compliance and operational burden to us.
With our Professional Employer Organization (PEO) or Employer of Record (EOR) services, you get control without taking on legal entity liabilities, contractor risks, or sacrificing on talent and speed to market. Contact us today to learn more.