GPS Co-Founders Win at 2019 SVUS World Awards®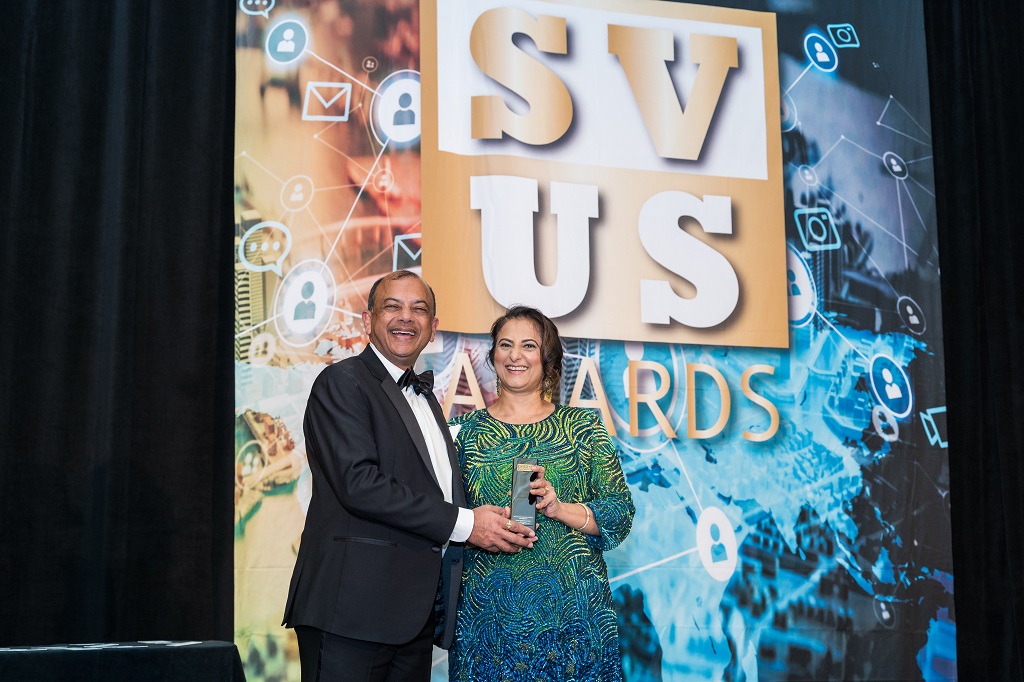 Global Upside Corporation, a conglomerate of brands providing domestic needs, international expansion, staffing, human resources, accounting, payroll support services and HR technology, today announced major wins for its Co-Founders at the Silicon Valley US (SVUS) World Awards.
COO Gita Bhargava won gold at the SVUS Women World Awards® in the Female Entrepreneur of the Year, USA category. The coveted annual Women World Awards program encompasses the world's best in leadership, innovation, organizational performance, new products and services, and milestones from every major industry in the world.
While accepting her award at the glittering event in San Francisco, Gita stated: "I want to ask all female entrepreneurs to believe in yourself, use the power of positive thinking, and think big! You will be able to achieve anything you want."
CEO Ragu Bhargava won a silver at the SVUS CEO World Awards® in the CEO of the Year, Business Services category. Judges from a broad spectrum of industry voices from around the world participated and their average scores determined the 2019 award winners.
Ragu states: "Thanks for this recognition, I am honored. But mostly thanks to my Team that has helped me get here. The Team that is dedicated day and night to keeping us at the top. My advice to others looking to succeed, be passionate about your work."
About Ragu and Gita Bhargava
Under Ragu and Gita's guidance, Global Upside Corporation has expanded its global footprint to 150+ countries and is servicing some of the world's biggest and fastest growing companies and most famous brands. Global Upside Corporation brands include Global Upside, Global PEO Services, Gava Talent Solutions, and Mihi Software.
An award-winning financial executive and entrepreneur, Ragu has also won the Pride of India Award and Le Fonti Award for his leadership. In his previous avatars, Ragu was the Chief Financial Officer at ActivIdentity (ACTI) and held leadership positions in several companies including Deloitte and NetIQ (NTIQ). At NetIQ, he played a key role in helping the company grow from $20 million to over $300 million in revenue. He is an avid supporter and Board member of City Year San Jose/Silicon Valley (www.cityyear.org/sanjose), an education-focused nonprofit organization helping at risk students across America stay in school. He is also an advisor on the Western Governors University College of Business Council.
Gita has a 20+ year track record of operational excellence and innovative problem solving and has received various recognitions for her work including Stevie Awards, Le Fonti Awards, and Silicon Valley Business Journal's Women of Influence Awards.
Global Upside Corporation brands have collectively won the Global Payroll Team Awards by the Global Payroll Association; Partnership in HR Excellence Awards by the HRO Today; and Stevie® Award for Innovation in Product Design and Development at Asia-Pacific awards.
Learn more about Ragu and Gita Bhargava at https://gu-corp.com/about or connect with Ragu at https://www.linkedin.com/in/ragubhargava and Gita at https://www.linkedin.com/in/gitabhargava.
SVUS Award Winners
Ragu's fellow awardees at the 2019 CEO World Awards include: Tom Reilly, CEO, Cloudera; Philip N. Kaplan, Chairman and CEO, GameWorks, Inc.; Martín Migoya, Chairman, CEO & President, Globant S.A.; Paramvir Nagpal, CEO, Mapsted Corp.; Himanshu Dwivedi, CEO and President, Data Theorem; Victor Cho, CEO, Evite; Charles Giancarlo, CEO, Pure Storage.
Gita's fellow awardees at the 2019 Women World Awards include: Christine Bosworth & Celina Shands, Co-Founders, Buiness U Inc.; Heather Kernahan, President, North America, Hotwire; Taryn Owen, President, PeopleScout; Tina Liu, Entrepreneur-in-residence, Wyss Institute at Harvard University; Amy Doherty, SVP and CIO, AARP; Kira Makagon, EVP of Innovation, Ringcentral. See the full list at https://womenworldawards.com/winners/2019-winners/
Global PEO Services (GPS) helps companies expand globally without having to set up legal entities in foreign jurisdictions and deal with related talent acquisition, HR, benefits, payroll, tax, and compliance issues. Hire employees fast, test new markets, or respond to growing business needs quickly while leaving the compliance and operational burden to us.
With our Professional Employer Organization (PEO) or Employer of Record (EOR) services, you get control without taking on legal entity liabilities, contractor risks, or sacrificing on talent and speed to market. Contact us today to learn more.